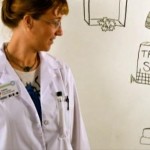 I've written a few times about the use of crowds in healthcare.  For instance, a site called CrowdMed are aiming to crowdsource medical diagnosis.  It takes the form of a prediction market whereby community members are invited to place bets on the correct diagnosis from a range of suggestions.  The success or otherwise of these suggestions go into building up the profile of participants, with their reputation growing (or falling) as a result.
There are also attempts to use the crowd to source ideas and insights in medical research.  Harvard Catalyst used crowds extensively throughout its research into diabetes, whilst sites such as WellSpringboard and Innopinion are looking to open up the innovation process in healthcare, either to a wider pool of healthcare professionals, or even wider to anyone with an interest in the topic.
It's a fascinating area with some potentially huge upsides.  So it's interesting to read the a new paper that is reviewing some of the advances in this area.  The paper focuses specifically on tapping into the crowd for medical research, but it should be of interest for anyone involved in either healthcare or science as a whole.  The abstract is below.
"Crowdsourcing research allows investigators to engage thousands of people to provide either data or data analysis. However, prior work has not documented the use of crowdsourcing in health and medical research. We sought to systematically review the literature to describe the scope of crowdsourcing in health research and to create a taxonomy to characterize past uses of this methodology for health and medical research..

Twenty-one health-related studies utilizing crowdsourcing met eligibility criteria. Four distinct types of crowdsourcing tasks were identified: problem solving, data processing, surveillance/monitoring, and surveying. …

Utilizing crowdsourcing can improve the quality, cost, and speed of a research project while engaging large segments of the public and creating novel science. Standardized guidelines are needed on crowdsourcing metrics that should be collected and reported to provide clarity and comparability in methods."