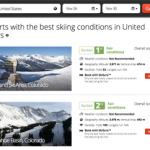 When I was growing up, holidays abroad nearly always required a visit to a high street travel agent.  They could help you to arrange the suitable accommodation and the travel to and from that venue.  They might even arrange activities for you to do and even the currency to spend whilst on your holiday.
In just a few years however, that long-standing process has been radically disrupted, as the Internet has enabled us to do pretty much all of those tasks ourselves without any hand-holding.
Or at least, a bit less hand-holding, for most sites provide as much feedback as possible via user reviews and photos.  This level of feedback and support is still quite passive however in that it doesn't provide active insight into your potential travel plans.
The automated travel agent
A new service, called Qalendra, aims to improve matters by utilizing big data to automate the kind of recommendations that would have traditionally been provided by the human travel agents.
They have built predictive algorithms that aim to pull together data from a range of sources for a particular location at a particular moment in time.
For instance, if I wanted to go cycling somewhere in May, Qalendra would look at things like weather, terrain and whether my preferred area is suitable for someone of my abilities.
The aim is to provide the user with a range of informed options to weigh up before then making their decision to plump for a particular location.
Open API
The tool is currently being offered to existing travel sites via an API, with the team hopeful that the contextual recommendations will be a valuable addition to the existing booking process.
We've already seen the deployment of IBM's Watson as a more sophisticated shop assistant, so it seems inevitable that such innovations will find their way into the travel market too.
It will be an interesting trend to follow.  You can find out a bit more about Qalendra via the video below.