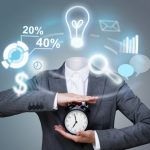 To an extent HR has been using a degree of automation for some time, with most job applications filtered according to keywords and so on.  A number of startups are aiming to expand the range of automated HR tasks undertaken however.
First up is the Mya chatbot produced by recruitment company FirstJob.  Mya aims to provide a much greater level of feedback and engagement with an applicant than is normally the case (not hard).
She gets in touch as soon as the candidate applies, and is capable of asking follow up questions if something about the CV looks interesting.  The hope is that this interaction will create a better impression of each candidate, and therefore hopefully ensure the organization get a better fit for the role.
Automating HR
Boston based Talla aim to take things a step further and automate much of the process once an employee is hired.  They have developed a chatbot that is designed to help a new employee find their feet in their new organization.
The aim is that rather than a new employee asking someone in HR about processes and procedures, they can ask Talla instead.  Eventually the chatbot aims to become a fully blown workplace assistant, including being able to focus your work in the right areas and answering standard HR questions such as when you get paid each month.
There has undoubtedly been a boom in chatbots in the last year, with most of the big tech companies getting on board with them.  Whilst they do offer an intriguing range of possibilities, it's crucial that they deliver great rather than just cheap service to users.  Early studies into how we respond to chatbots suggest that we're far more critical of the organization if the bot doesn't deliver effective information than we would do if a human delivered poor service.
Talla aims to ensure this by using the latest in natural language processing and machine learning to build what they believe is an intelligent system.
Whether these early forays into automating much of the HR process is a sign of things to come will largely depend on just how effective and intelligent the bots prove to be.  It's an experiment that's well worth keeping an eye on.