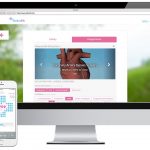 As healthcare has become more concerned with behavior change, a number of services have emerged to help coach us towards better health.  One of the first providers to enter this new field was Vida, a health startup that offered coaching in a range of areas, including weight loss, stress reduction and diabetes prevention.
Most of these services used human coaches to support the user, but increasingly AI algorithms took a more central role.  Sports 'coaches' were the first to hit the market, with products such as Moov Now providing users of its wearable device a range of feedback on their performance.
Whilst AI is making impressive strides, for the time being at least a blended human/computer based service is likely to prevail.  A good example of this is TickerFit, a UK based startup that was a recent finalist in the AXA PPP Health Tech & You Awards.
Remote care
The company provide a platform through which healthcare providers can deliver a range of primary and secondary preventative services to patients.  The aim is to provide customized interventions to each user via a curriculum that is delivered to the user via a mobile app.
As each daily task is completed, data is shared with both the individual and their medical team.
"At TickerFit we are transforming the way rehabilitative care is delivered to patients.  Our goal is to enable healthcare professionals extend their reach to support their patients in a more efficient and effective manner," the company say.
The system is already being used in primary care delivering a range of physical activity interventions, with a couple of RCTs also underway in areas such as cardiac rehabilitation.
It's certainly an interesting service, and one of a growing number of health coaching services offered online. Alongside the various physical coaching services outlined above, there are also services emerging that aim to help out mental health.
One such service is California based AbleTo, who provide coaching and support via a telehealth platform.  They aim to improve patient care by integrating behavioral change with existing medical care.  They offer structured therapy sessions that are designed to improve medical recovery, and foster the kind of behaviors that will allow better self-care among users.
Behavior change is a crucial part of modern healthcare, so it's good to see a growing number of services designed to make such services more accessible.