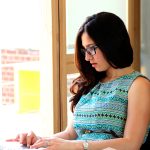 Silicon Valley has long been accused of being overly homogeneous, especially in terms of gender.  It's resulted in a number of initiatives aiming to help women thrive in tech.
A recent report suggests that women are leaving the industry in large numbers. The paper, published by non-profit organization Catalyst, who aim to promote the role of women in the workplace, provides a significant reminder of the challenges still facing women trying to thrive in tech.
It found that over 50 percent of women who began their career in a tech related industry after graduating from their MBA course left their role to take a job in a different industry entirely. This ratio was some 20 percent higher than that of their male counterparts, which is a pretty stark finding.
This is highlighted by there being just 11 percent of executive positions in Silicon Valley being filled by women.
It's a statistic that Glassbreakers are hoping to rectify.  They're a mentoring community for women in the tech industry, offering the opportunity for female techies to connect up with their peers and help one another out in their careers.
Users connect up to the site with their LinkedIn profile, which is then analyzed by the sites algorithm to pull out things such as your background, skills and education.  It will then attempt to match you with other members that it thinks would provide some useful support in your career.
Open source bias
It's a fascinating topic, and even more so in that it appears to extend to the apparently egalitarian, meritocratic world of open-source, at least according to a recent study into the issue.  The research explored the acceptance rate of contributions to open-source projects from men and women, and found that when gender is hidden, women's contributions tend to be accepted more often than men, but when gender is visible, the reverse is true.
"There are a number of questions and concerns related to gender bias in computer programming, but this project was focused on one specific research question: To what extent does gender bias exist when pull requests are judged on GitHub?" the authors say.
GitHub operates via a series of pull requests, which are offers to improve the code of software by the community.  These are either approved or denied by insiders, who are programmers responsible for managing the project.
The research examined over 3 million pull requests from 330,000 or so users, of whom 21,000 were women.  When gender was hidden women enjoyed a 78.7% success rate, compared to 74.6% for men.
When users could be identified by their gender however (by their profile name or picture, for instance), the success rate dropped to just 58% for women.
"Our results indicate that gender bias does exist in open-source programming," the authors say. "The study also tells us that, in general, women on GitHub are strong programmers. We don't think that's because gender affects one's programming skills, but likely stems from strong self-selection among women who submit pull requests on the site."
The research joins similar studies into gender that found that female entrepreneurs tend to attract less funding from the venture capital community, suggesting that if we are to achieve true meritocracy, we have some way to go yet.