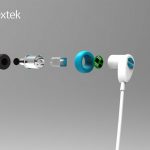 Earlier this year I wrote about Shoebox, a medical device created by Canadian startup Clearwater Clinical.  The device is the first clinically validated mobile audiometer device that can test for hearing loss.
"Hearing loss is the world's leading disability, affecting almost 640 million people globally, and yet there has been very little innovation to audiometers in the last 50 years. Shoebox audiometry is satisfying an enormous need in the market by providing a simpler and more cost-effective approach to hearing testing," the company says. "At Clearwater, we believe that it is possible to leverage the power and portability of software defined diagnostics and tablet technology to revolutionize the hearing health industry and make it possible for every person on the planet to have access to a hearing test."
They aren't the only interesting new technology emerging in the field however.  For instance, Cambridge based company Plextek have developed a device that can connect to regular headphones and provide an early warning system for tinnitus.
Detecting tinnitus
The frustrating condition is believed to affect around 300 million people around the world, with around 50% of all hearing issues preventable with better primary interventions.  Plextek provide just such an intervention, with their device designed to monitor small changes in the Auditory Evoked Potentials (AEP).  These are the signals sent from the brain by acoustical stimuli and are used to measure our hearing abilities.  The device can easily be paired with a smartphone, with alerts sent if problems are detected.
Currently, most tests for tinnitus are conducted in clinical environments, and therefore provide fairly poor means of early detection.  The Plextek device aims to fill in this gap by allowing us to have more regular monitoring of our hearing.
"For those not within perceived high-risk environments such as the military, the danger of hearing damage is not always immediately obvious. However, our modern lifestyle has meant loud music and noise pollution is commonplace, resulting in a large amount of the population suffering from hearing problems. By placing easily accessible detection technology within consumer products, everyone can constantly self-monitor and act quickly on a condition like tinnitus, that often has life-changing effects on sufferers," the company say.