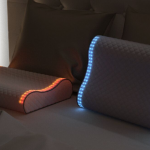 The benefits of better sleep are well known, and good rest is often as important to the healing process as the various medicines and treatments you receive in hospital.  Alas, with the bright lights and beeping machinery, good quality sleep is not always easy to achieve.
Enter HealWell, a new product developed by Philips, that aims to improve both the sleep patterns of patients, and their overall wellbeing.  It's primarily been used to date in clinical trials, and it has been clinically proven to be effective.
It uses dynamic LED lights to try and mimic the natural daylight patterns in each patient's room, with the aim being to provide a more natural setting than the often harsh and artificial seeming rooms you find in hospitals.
A softer approach
A novel alternative to such 'natural' lighting products has emerged from an American startup called Mode.  They've developed a product called the Sunrise Pillow, which provides a number of sound options to help users fall asleep.  For instance, they may block out noisy disturbances such as a snoring partner, or provide natural sounds or even meditation to help us to doze off.
In the morning, the pillow can play a range of sounds, whilst also providing natural light to help rouse us.  The device can be controlled either via a remote control or via a smartphone app.
The device is currently raising money on Kickstarter and aims to start shipping in October 2017.