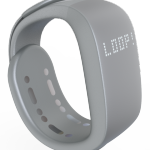 Wearable devices have promised to make a significant impact on healthcare for sometime, but a major challenge remains ensuring that they are clinically validated, and therefore devices that patients can trust.
One such device was released recently by Californian startup Spry Health.  The product, known as Loop, is one of the first wearable devices to provide clinical-grade disease management for remote patient monitoring of chronically ill patients.
The device is designed to provide wearers with real-time, individualized analytics related to their condition, and therefore reduce hospitalization.
Born from personal experience
Like so many health innovations, the Loop was born from personal experience, with the Spry Health founders both watching family members struggle with chronic illnesses.  The Loop is an attempt to better enable both patient and doctor to understand the micro-changes that occur in patients with chronic conditions.
"In a given year, over 28 million hospitalizations are attributed to chronically ill patients, resulting in an average bill of $37,300 per stay with some patients winding up in the hospital three or more times per year," the founders say.
The device aims to monitor vital signs continuously, and by comparing this against the wearers baseline is hoping to assess their condition on an ongoing basis.  It aims to detect subtle changes and then deliver actionable insights to both patient and their doctor before visible symptoms emerge.
The company conducted a comprehensive pre-market evaluation of the device prior to launch, with over 250 participants monitored as they used the Loop.  It was tested alongside a number of clinical measures and equivalent assessment services for things such as blood pressure, heart rate, oxygen saturation, respiration, and CO2 monitoring. The company has submitted with the FDA and is seeking clearance for Loop by early 2018.
Suffice to say, they aren't the first company to manufacture such a device, and I'm sure they won't be the last.  Indeed, Verily, Google's life science arm, released its own device recently called the Study Watch.  Whilst that does a great deal of monitoring however, it is primarily aimed at the research market, but it isn't beyond the realms of possibility to see them releasing an app interface to accompany it.
It's certainly an interesting time, and shows again the tremendous possibilities when the data from such devices is merged with existing medical data about a patient to provide more round-the-clock care and a greater emphasis on prevention.