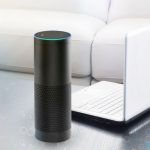 I've written previously about the growing ability of technology to analyze our voice for signs of various conditions, including Parkinson's and Alzheimer's.
A glimpse into the potential of such devices for advancing medical science was provided by a recent partnership between voice technology company Orbita and clinical trial company ERT to optimize data capture for clinical trials.
The partnership aims to bring together ERT's specialization in clinical trial data collection, processing and analysis with Orbita's conversational application development.
"ERT is continually collaborating with clinical trial sponsors and technology experts to ideate and test the application of innovative technologies in clinical development," ERT say.  "We're excited to work with Orbita on this solution and to give patients the power of voice ? an important, emerging technology ? to  complete surveys, verify completion of care pathway tasks and report health concerns, all of which enables pharmaceutical researchers to move ahead in their clinical development programs quickly, and with confidence."
Powering the Echo
Orbita Voice is a healthcare-centric technology developed to work effectively with products such as the Amazon Echo and Google Home.  At the moment, the use of the technology in clinical trials is primarily in areas such as conducting surveys, with built-in analytics used to track user input.
The new partnership promises a more advanced solution than that however, as it allows trial coordinators to create and manage care plans with clear goals and tasks over a defined timeline, with participants checking in via daily pain assessment surveys, wellness tasks or recording of vitals.
"We are thrilled to be working with ERT to bring next-generation technologies to the forefront for clinical trial sponsors and participants.  ERT's leadership in the clinical trials industry and their creativity in blending Orbita Voice with the advanced capabilities of their own EXPERT™ technology platform make them an ideal partner to deliver transformative solutions to this market," Orbita say.
Whilst the partnership is not using voice technology in the detection of disease, researchers in the field do nonetheless believe it to quickly go beyond 'merely' providing voice activated personal assistant like capabilities.
According to Harry Wang, senior director of research at Parks Associates, "Voice-based UI innovations have huge implications for the healthcare industry, particularly in areas where patient participation, interaction, and engagement is critical to the market success of digital health solutions and services. This collaboration between Orbita and ERT is a clear example of voice recognition technology's potential in healthcare and we expect many more use cases that incorporate voice UI to emerge."