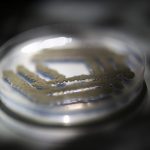 The use of big data in the hunt for promising molecules for medical research is a burgeoning field.  Whilst market leaders like BenovolentAI show the way, a number of fascinating projects are working in more niche areas.
One such was documented in a recent study by Northwestern University.  It saw researchers examine the genetics of molds to hunt for promising natural molecules for drug discovery.  It's an area that has hitherto been largely untapped.
"Drug discovery needs to get back to nature, and molds are a gold mine for new drugs," the authors say. "We have established a new platform that can be scaled for industry to provide a veritable fountain of new medicines. Instead of rediscovering penicillin, our method systematically pulls out valuable new chemicals and the genes that make them. They can then be studied in depth."
It's a world that remains largely unexplored, and researchers believe there may be as many as a few million fungal molecules as yet undiscovered, and that these may have serious health benefits.  The tech identified in the paper sets out to speed up that discovery process.
Fungal Artificial Chromosomes
The technology, called FAC-MS (Fungal Artificial Chromosomes with Metabolomic Scoring), has been in development for several years, with the researchers recently refining it on three diverse fungal species.  It managed to discover 17 new natural products from just 56 gene clusters.
"Fungi make these natural products for a reason, and a lot of them are antimicrobial," the researchers say. "They're used as weapons to kill or retard growth of other fungi, bacteria, or any other competing microbe in the area where the fungus wants to grow. Fungal compounds are a major source of diverse drugs."
The system uses genomics and molecular biology to identify large swatches of fungal DNA, which may have medicinal interest.  It then puts the DNA in a model fungus that is grown in the lab, before then analyzing the chemical products using mass spectrometry and data analytics.
Researchers have long known about the potential of fungal species for drug discovery, but historically it has been challenging to unlock fungal compounds at scale.  It's also been difficult to discern differences between what the fungus actually does versus what it could potentially do.  It's a series of challengers the team are confident they've overcome.
"Because these molecules are coming from a biological system, they tend to be more complex than a new molecule made in a pharmaceutical lab," they say.  "Molecules from fungi are predisposed to interact with cells and proteins, so, in that sense, they have promise. Our hope is that we find useful bioactivities that could lead to new medicines."
The computing power they can throw at the task has also allowed them to analyze considerably more gene clusters.  Whilst traditionally one or two might have been the limit within a single study, they were instead able to analyze 56 in one go.
"We've designed a methodology where we can take all 56 gene clusters from fungi, package them and go through a process where we can try to express all of them," the team explain.
The next step is to try and develop FAC-MS so that it can be applied at an industrial scale and breath new life into the drug discovery process.