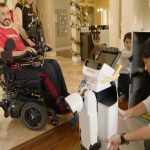 I've written a few times recently about the growing role robots are playing in healthcare, especially in environments such as elderly care homes, where the devices do everything from provide medical reminders to companionship.
The latest example comes via car giant Toyota, who have developed a Human Support Robot (HSR) to help army veterans who have lost mobility.
Personal assistance
The robot, which has recently undertaken a first in-home trial in North America, is designed to help people with their everyday activities.  The trial saw the robot support an army veteran with their daily tasks, whether it's opening doors or collecting snacks for them.  The idea is to help them retain a degree of independence that they would struggle with without support.
"At Toyota, we have a commitment to enriching lives by advancing mobility for all – whether it's around town or across your living room," Toyota say. "This includes developing technology solutions to assist people with limited mobility. We see our research with Romy and the HSR as a natural extension of our work as a mobility company that helps people navigate their world."
The project is part of a wider body of work being undertaken by the company to support people with mobility.  They're also working on projects sch as:
Welwalk WW-1000: A wearable robotic leg brace designed to help partially paralysed people walk;
Project BLAID: A future mobility technology that could help people who are blind or have visual impairments gain better environmental awareness;
Transfer Assist Robot: A robot that helps transfer adult patients easily from bed to chair and chair to toilet, without overburdening the carer;
Auto Access Seat:  A device designed to help people who have difficulty entering and exiting special vehicles, such as seniors or others with limited mobility, do so more easily.
The work with robots is particularly interesting however as it forms part of a much wider body of work that sees robots deployed to provide continuous, 24/7 support to those in need.
Check out the video below to see the machine in action.