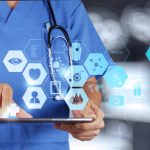 The eHealth market has been booming in the past few years, and I've written numerous times about innovations in the space.  A recent paper from the EU examined the rate of development in eHealth across Europe.
The study compares the rate of development throughout the EU, and examines the way eHealth can support health systems throughout the continent.
"eHealth has quickly become a symbol of the democratisation of healthcare, as well as an opportunity to meet the challenges caused by an ageing society, the epidemic of non-communicable and chronic diseases and the dramatically rising costs of healthcare," the authors say.
Disjointed efforts
Whilst the promise is considerable however, the paper also highlights the lack of any real harmonization of digital health projects across the EU, especially when it comes to cross-border healthcare.  This is especially so in areas such as electronic medical records and national eHealth initiatives.
"Denmark, Iceland, Finland, Spain and Sweden have the most developed eHealth solutions. Countries with poor results are Belgium, Germany, France and Italy. eHealth is the least developed in Albania, Montenegro, Bulgaria, Poland and Cyprus. Austria, Ireland and Hungary also have a relatively low score," the authors say.
When it's done well however, investments in eHealth bare considerable returns.  The report reveals that there is approximately a 2:1 return on investments, with the average breakeven point for eHealth projects being around five years.
What's more, investments in eHealth projects could also result in a fall in healthcare expenditures as a result of the improvements in service delivered by them.
"On average these solutions could reduce the health expenditures of most European countries by 0.31% GDP or 5% less spent on health by the taxpayer. A more conservative assumption connected only with eHealth usage as ePrescriptions, ICT systems and fraud control could lower the expenditures of about 0.13% GDP, which saves about 2% on the health budget (or makes these funds available for other treatments)," the report says.
To achieve these gains, the report provides a number of clear recommendations, including:
A universal deployment of standardized electronic health records across the EU
Develop European registers of chronic diseases
Explore how research data can effectively be shared between states
Invest in digital health literacy
Raise awareness of data security and privacy regulations among patients
The paper follows a report from earlier this year that examined the policy implications of greater data usage in healthcare.  Collectively, they provide a clear indication of the growing appreciation of the potential for digital healthcare to make great strides in improving the health of citizens across Europe.