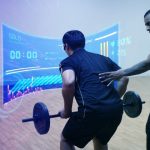 The past few years, the exercise industry has been transformed by the ability to gather ever more data about what we do, and how we do it.  A number of platforms have taken this data and gamified it to encourage athletes to push themselves that bit harder.
I've been using such a platform myself for the past six months, with tremendous results.  Strava is a virtual cycling platform whereby you control an avatar via your home turbo trainer.  The virtual world is complete with thousands of other cyclists doing the same, and features a range of different courses and routes, with races and group rides adding a social element to what is usually a very isolated experience.
It's certainly helped me in my training, with the past six months seeing marked improvements in both duration and intensity of workouts, leading to a new personal best in the recent Maratona dles Dolomites.
Exergaming
Such a gamified approach is increasingly common however.  For instance, fitness startup ARX have developed a workout system that offers both personalized training and an augmented reality system to keep you entertained and motivated.
Players are put through a series of games that are linked to various fitness regimes.  For instance, they may be tasked with firing balls at a target whilst performing squats.  All of the activity is viewable via an Epson Moverio eyewear system, with a range of environments available to help engage the user in their exercises.
There is also a competitive aspect to the game, with personal performances tracked, but also a social media platform that allows you to compare yourself with friends and the wider ARX userbase.
Of course, this is one of many new services designed to get us sweating more often.  For instance, last year I wrote about a German startup, called eGym that provides gym equipment that's connected up to the cloud, so not only can you view your training data remotely, but so too can your personal trainer.
What's more, the connectivity offered via the machines allows trainers to provide live feedback and support to gym-goers as they train, with live data fed back and forth via the cloud.
Users can access their training plan, with the machines provided by eGym aiming to provide a full-body workout in as little as 30 minutes (which sounds a bit fanciful to be honest).  All of this is tied together via a smart wrist band that users use to login to the machines and tie their training together with fitness goals and progress monitors.