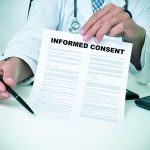 I've written a lot recently about the rise in genomic data, and the applications being developed on top of this.  For instance, a recent project featuring IBM and the New York Genome Center (NYGC), The Rockefeller University and other NYGC member institutions.
The work compared a number of techniques that are commonly used to analyze genomic data from tumor cells and healthy cells.  It utilized Watson for Genomics technology to help interpret the genome data.  The project revealed that Watson was able to provide actionable insights in just 10 minute, which compares to approximately 160 hours of human analysis.
Further evidence of the growing importance of genomic data comes via a partnership between the UK Biobank and the European Genome–phenome Archive (EGA), which is itself a joint resource developed by EMBL-EBI and the Centre for Genomic Regulation (CRG).
One issue that remains rather prickly however is around consent.  A recent paper published in PLOS Biology by a pair of health law researchers from the University of Alberta.  They argue that the whole industry lacks basic legal and ethical principles at the moment around consent, with this only likely to intensify as more genomic data is generated.
A growing problem
With projects such as the UK Biobank, researchers can embark upon projects with hundreds of thousands of participants.  Issues around the ownership of those samples, and the consent given by participants around their use persist however.  The authors contend that we need real policy movement in the area to cover these concerns, especially as industry is getting increasingly involved.
"The international research community has built a massive and diverse research infrastructure on a foundation that has the potential to collapse, in bits or altogether. This issue would benefit from more explicit recognition of the vast disconnect between the current practices and the realities of the law, research ethics and public perceptions," they say.
Also of interest is a recent paper from Professor Dame Sally Davies into the current state of genomic service provision in NHS England.
The report examines the potential for genomics to significantly improve the health of the nation.  It provides clear evidence of its potential in areas such as screening, disease diagnoses and personalized prevention services.
The paper goes on to highlight some serious shortfalls in areas such as infrastructure, public engagement, organization of research and the provision of services, before providing clear recommendations on how each of these gaps can be addressed and access to genomic services widened.
It's clear that this is an area undergoing some pretty rapid changes, and as such will be one that demands attention in the coming years.