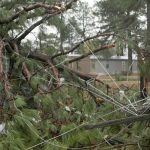 I wrote a while back about how drone technology is increasingly used to ensure utility companies don't suffer from power outages.  At the forefront of this shift is drone company Sharper Shape.  The company, which originated in Finland, recently secured a multi-million dollar funding round to aid its expansion into the US market.
One of the main areas the company is working in is to ensure trees don't fall onto power lines.  Whilst it sounds rather low tech, it's a problem that causes utility companies to spend around $6-8 billion a year to inspect both lines and neighboring trees to ensure mishaps don't occur.
Being able to predict the risk posed by falling trees is crucial, and a recent project from Texas A&M University utilizes big data to achieve that.
Smart forecasting
The system aims to provide accurate predictions of where vulnerabilities are, and therefore where power outages might occur.  This then allows preventative measures to be taken.
"The utility grids and related assets are mostly located outdoors and are exposed to all kinds of weather hazards. Dealing with aging infrastructure assets adds another layer of complexity that utility companies face," the team say. "Any kind of environmental data that has some relevance to the power system can be fed into this prediction framework."
The model is designed to be as flexible as possible, and therefore is capable of processing varying formats and data sources.  This in itself is a significant challenge, as different sources of data present unique challenges.  The team believe it can provide utilities with an invaluable service however.
"The first and foremost goal of utility companies is to assure uninterrupted service," they say. "By improving reliability, we can predict outages. If we can prevent outages with historical and close-to-real-time data, we can save millions of dollars since the outages may be mitigated."
The system deployed a three step process.  Firstly, they investigated the chances of a possible hazard, such as bad weather conditions.  They then examined the risk this posed to utility assets, before finally evaluating the impact such events might have, and the cost involved in maintaining, replacing and repairing the assets.
Key to the utility of such models is the accuracy of the data, and the team tapped into CenterPoint Energy's utility data alongside both historical and near real time weather data to predict vulnerabilities in the network of CenterPoint.
Whether it's models such as this, or drones such as those from Sharper Shape, it seems clear that utility inspections will be getting smarter.  If you would like to learn more about the Texas A&M research, check out the video below.