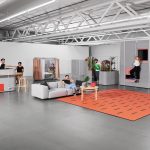 A few years ago I wrote about an interesting robotic technology made by a company called Asmbld, who have a team of miniature robots that live underneath the floor.  They're capable of moving and re-configuring the entire room in a matter of minutes.
The system is compatible with older buildings as the system is built on top of the existing floor, with the robots then operating in the space between the old and new.
The facilities managers then design their desired layout on their mobile device, which then talks directly to the robots to carry out the instructions required to build the design.
The company believe the system could be invaluable for large conference rooms or in co-working spaces, but they believe it could also find an application in homes and offices too.
"Think about a business space where the large conference rooms that are used once a day are the biggest spaces in the building," they say. "Instead of wasting resources for spaces that aren't useful 100 percent of the time, we can make the space more efficient and save a lot of money in the long term."
Down to earth
Suffice to say, whilst the technology is kinda cool, more down-to-earth applications of movable office space revolves around fitting wheels to desks and allowing them to move according to the needs of the team.
A team from Switzerland's ECAL University have developed specialized hubs for the workplace that allow for a customizable space to be created.  The bays are being showcased at the Festival Parade Toulon and have been created using Ronan and Erwan Bouroullec's Workbays system.  The aim is to create a system that can be curated to whatever you need.
"Through this workshop we tried to emphasise this 'organic' vision of the office by adding functionalities to the Workbays and the work environment in itself, that would create more interaction between the users and with the furniture," the team say. "Just by adding really simple structures to an existing Workbay, it becomes a space for employees to step away from work and exchange in a more casual way."