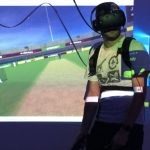 Whilst cricket is nothing if not a game of rich traditions, it is also no stranger to adopting technology in its pursuit of a better sport.  After all, it has long been a pioneer of in-game technologies to support the umpire in ensuring the right decisions are made on the pitch.
There have also been numerous innovations behind the scenes, with bowling machines able to replicate most of the leading bowlers from around the world.  I wrote earlier this year about a fascinating Indian project to place tracking devices inside the ball itself.
The team developed motion tracking algorithms from a range of inertial measurement unit sensors and wireless radios that were fitted inside both the ball and players' shoes.  The sensors themselves are wrapped in a protective case and employ inferencing algorithms to enable movement to be tracked to within a few centimeters.
What's more, they can also accurately characterize the 3D motion of the ball, including its orientation, trajectory and revolutions per second.
"This level of accuracy and accessibility could help players in local clubs read their own performance from their smartphones via Bluetooth, or school coaches could offer quantifiable feedback to their students," the team say.
Virtual cricket
A team from the University of Bath and Stickee Studios are attempting to marry virtual reality with cricket to allow regular people to pit their wits against the best in the business.
The game, called Balls! Virtual Reality Cricket, has been developed at the University's Centre for the Analysis of Motion, Entertainment Research and Applications (CAMERA), and uses motion capture technology to record the movement of people playing cricket in a studio environment.  This dataset was then used to animate the various participants in a game of cricket, including bowlers, fielders and even the umpires.
Gamers can participate in a range of ways, competing in games against their friends with a range of difficulty levels.  They can choose whether to face a ferocious pace bowler or a tricky spinner.
"Working with commercial partners from the games industry gives us valuable experience with clients to better understand their needs and work outside the 'research bubble'," the team say.
Check out the video below to see the game in action.