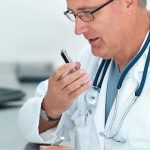 I've written previously about the wide range of new technologies that are increasingly capable of analyzing our voices for everything from Parkinson's to PTSD.
With devices like the Amazon Echo, the range of voice powered services is on the increase.  An example of the direction of travel comes from Orbita, Inc., who have teamed up with Californian healthcare company Libertana Home Health to offer home care solutions via the Amazon Alexa technology.
Voice-powered health
The healthcare provider is using Orbita Voice to engage better with patients and encourage them to perform a range of activities required for them to lead a healthy lifestyle.  The company has already tested the system with a range of residents.  They were using the voice assistant to report a range of key data points, including their weight, blood pressure and blood sugar levels, whilst receiving information around their medication and exercise regimen.  They could also use the system to request help from the medical team, coordinate transportation or learn about the various social and recreational activities organized by the company.
"In our efforts to empower individuals to live independently, Libertana's had significant success with out-of-the-box approaches. We see great value in the capabilities of voice to address a full range of health and living needs for seniors and disabled individuals," Libertana say. "Loneliness, for example, is a huge variable impacting health. At a minimum, if a digital assistant can help break the loneliness cycle, we come out ahead. Beyond this, the possibilities seem nearly endless."
The team hope that by improving engagement and enhancing compliance with instructions, the voice-based platform can significantly improve outcomes.
"Voice assistants overcome challenges for individuals who, due to physical limitations, cannot use a keyboard or touch screen. They also improve patient satisfaction with more natural, engaging experiences that eliminate the "monitoring" stigma of other connected devices, while still providing the data-driven insights that improve caregiver response in moments of need and intervention. Finally, they reduce costs by keeping patients at home and away from more costly clinical care settings," they say.
They, perhaps understandably, believe voice to be the next key interface in healthcare, with the movement at an early stage in its progress, and an almost certain expansion in the number of apps developed with a significant voice-based user interface.