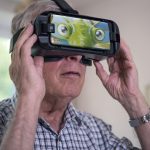 I've written a bit over the past year or so on the rise of games that are aimed not just to provide fun for the players, but also to help deliver some kind of social good to society too.
For instance Phylo was produced by McGill in a bid to increase the understanding of genetic research.  Eyewire is a similar effort, this time produced by MIT, that aims to further understanding of neuroscience.
EteRNA is a game that explores the folding patterns of RNA, whilst NOVA is tackling a similar issue, but with the hope that it will get youngsters involved.
Charities have also got involved. Reverse the Odds is a game created by Cancer Research UK to help with the fight against the disease.
Or you have Nanocrafter, which has been created by researchers at the University of Washington to help further understanding of synthetic biology.
Neurological disorders
Some of the more interesting games have been aiming to tackle neurological disorders.  For instance, Stall Catchers was developed by a high profile team consisting of researchers from Berkeley, Princeton, Cornell, the Human Computing Institute and more, with the aim of supporting research into Alzheimer's that is being undertaken at Cornell.
Or you've got Sea Hero Quest, which was developed by Deutsche Telekom to provide understanding into dementia.  The original mobile phone game was launched in 2016 and attracted over 3 million downloads, which in turn provided as much data as would traditionally require 12,000 years of lab-based research.  The game provided invaluable benchmark data around human spatial navigation.
The team have looked to build on that success with the launch of a 2nd version that moves from mobile to virtual reality.  The team used virtual reality because they believe the rich environment is capable of generating far more data than either lab-based experiments or the mobile game.  Indeed, they believe just two minutes of game time is equivalent to five hours of lab-based research.  This high bang for ones buck will be needed with VR usage still relatively low, especially among the target market for the game.
"Building on the success of the mobile game Sea Hero Quest which collected the data of almost 3 million players, we are very proud to continue to push the boundaries of traditional medical research, working alongside our trusted partners and leveraging our expertise in this area."
VR gaming
The game, which was developed in partnership with University College London, the University of East Anglia, Alzheimer's Research UK and game designers Glitchers, aims to delve into the subtle human behavioral reactions of players with a high degree of precision.
The game itself replicates a number of important lab-based experiments, such as the Morris Water Maze.  The team believe that virtual reality is a much better environment for such experiments than the mobile platform used previously.
"Sea Hero Quest VR allows us to measure more intuitively when people are not sure of their bearings, for example by stopping and looking around. VR therefore has the potential to capture additional complementary data to Sea Hero Quest mobile," the team say.
The game is currently free to download from the Oculus store.