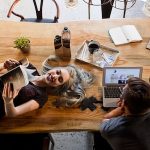 With startups such as Airbnb doing so much to disrupt the hotel industry in recent years, it's easy to think that the sector has been asleep at the wheel and failing to innovate sufficiently to ward off such upstarts.
Whilst that has more than an element of truth to it, hotel chain Marriott have been attempting to improve the service they offer to customers via their TestBed accelerator program, for whom the winners of the 2017 edition were recently announced.
Speed to market
The program, which attracted entrants from around the world, granted three startups access to a 10 week program to test their products and services in Marriott hotels throughout Europe.  The startups, which cover technologies such as AI, robotics and virtual reality, were whittled down from over 140 applicants from around the world.
The three winners of the program were:
Mymanu – UK – an earbud technology that provides wireless translation in real-time in over 30 languages.  It's designed to help staff communicate with guests in their native language.
HiJiffy – Portugal – a chatbot that is specifically designed for the hospitality sector.  The aim is to offer a concierge type service via Facebook Messenger.
Optishower – Portugal – a smart meter to measure both the water and electricity consumption of a hotel.  The device provides both guests and associates with a greater understanding of usage, thus providing both the ability to reduce wastage and also allow guests to track their own consumption.  They might even be rewarded for sustainable behaviors.
Personally, I think that Mymanu is easily the most valuable of these three, with easy translation something that is of tremendous value in a global marketplace.  It will be interesting to see just how successful the company is at integrating these technologies into their hotels around Europe.