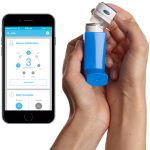 It's estimated that over 5 million people have asthma in the UK alone, with the UK having one of the highest rates in Europe.  It's perhaps understandable, therefore, that a number of innovative new technologies have emerged to support those with the condition.
One such device is a new bracelet developed by a team from Rutgers University that can help wearers predict a looming asthma attack.
The device, which was documented in a recently published paper, monitors lung inflammation and could potentially inform wearers when and at what doses to take their medication.
"Our vision is to develop a device that someone with asthma or another respiratory disease can wear around their neck or on their wrist and blow into it periodically to predict the onset of an asthma attack or other problems," the team say. "It advances the field of personalized and precision medicine."
Or you've got the work undertaken by researchers at North Carolina State University.  The researchers utilized nanotechnology to build wearable sensors that can not only detect the air quality around us, but also our own vital signs.
The sensors could, for instance, monitor for things such as ozone or carbon monoxide levels, all the while also recording our heart rate and hydration levels.
This data could then be fed directly to our smartphone, or even to our doctor.  The aim of the project is to help people who suffer from breathing conditions such as asthma.
Into the market
Suffice to say, fascinating though these research projects are, they are a little way from the market, but one startup that is further along than most is Propeller Health, who have developed a digital platform that augments the capabilities of the asthma inhaler.
The system aims to provide users with greater insight into their condition, and the triggers that cause the worst symptoms.  By doing this, they hope to provide users with predictions for possible outbreaks of breathing difficulties so that such attacks can be managed.
The device also comes with a range of sensors to help the user ensure that they are using the device correctly, whether by using accelerometers to gauge orientation, or microphones to monitor breathing patterns to test for correct inhalation of medication.
The company recently announced a partnership with pharma giant GSK that will see the Propeller sensors working closely with GSK's ELLIPTA Inhaler.  The companies will continue ongoing research and development efforts to collect evidence from the Propeller clip-on sensor and software platform used in conjunction with GSK's respiratory medicines for asthma and COPD.
"We are excited to be working closely with GSK to make the sensor for the ELLIPTA inhaler available in our commercial programs, and for the first time, as part of commercial pilots with GSK outside the US," Propeller say. "Companion digital experiences simplify and personalize the management of chronic respiratory disease, and help ensure individuals and their physicians realize the benefits of inhaled medicines."
Applied research
A new platform has also been developed to try and bring these kind of projects together.  The Asthma UK Centre for Applied Research, and aims to bring together the full gambit of applied research in the field, as well as connecting up with platforms that support and facilitate asthma research.
The resource also aims to help the next generation, with an extensive training program for the next generation of researchers. The new website highlights opportunities for prospective PhD students, as well as giving lots of information on current students.
It is probably in terms of data that the site really comes into its own though. The platform will host a series of curated big data sets around asthma in the UK so that researchers can easily see what data is available, who holds it, and how they can obtain the data required for their research.