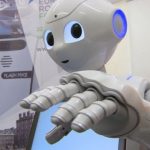 Robot technologies are increasingly being deployed in healthcare, especially in settings where staffing levels are significantly stretched.  Suffice to say however, ensuring that the technology works effectively with the healthcare system is far from easy, both from a safety and care quality perspective.
A team led by Finland's Aalto University have been working on this implementation of robotics into healthcare via a logistics based project at Seinäjoki Central Hospital.  The prototype system will feature 5-8 automated delivery robots running deliveries 24/7 to help improve the availability of supplies at the hospital.
The first six months of the project reveal that both transportation expenses and physical strain have been reduced, with logistics staff at the hospital looking on their new colleagues favorably.  Indeed, the system has been sufficiently successful that other hospitals have shown interest in deploying it.
Interestingly, it also emerged that staff at the hospital felt like they had more control over and appreciation of their work.  The initial trial highlights the importance of taking a systemic view of how robots might impact the workplace, and especially how they might change the interdependencies between various stakeholders.
The team believe that successful implementation of the robots requires careful planning and exceptional communication.
"As the system is expanded with new robots and types of deliveries, even more guidance, communication and dialogue is needed. Joint planning that brings various players to the same table ensures that the system's implementation goes as smoothly as possible, making it easier to achieve the desired overall benefits," they say.
The work is part of the larger Robots and the Future of Welfare Services project (ROSE), which runs until 2020.  The project aims to explore what impact robotics can have in areas such as independent living, wellbeing and care.
Click here to view the full report.