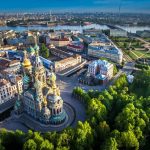 The web has fundamentally changed how most of us travel, with a Google search often the first action undertaken when we look to research potential destinations.  I've written a few times about innovative new ways to find hidden gems on your travels, but most of these involve tapping into local knowledge.
It's a task that researchers from ITMO University have automated with a new algorithm that aims to guide tourists to the hot spots in their destination of choice.  The work, which was documented in a recently published paper, uses Instagram feeds to point users to potential places of interest.
The algorithm was trained using photos of St Petersburg and information on the numerous museums, restaurants and other features of the city that were preferred by locals, with the researchers able to distinguish between posts made by tourists and those from residents of the city.
"Popular locations for locals and tourists differ, but it was important for us to know how they differ. Guides usually offer tourists a list of ten to 15 attractions. However, locals usually know much more. By identifying their favourite places, we can significantly diversify tourists' experience," the authors say.
Local insight
To do this, they selected a couple of months where tourist traffic is low, and harvested the Instagram posts made during that period.  They then analyzed the profiles of each of the users who had posted them.  For instance, local residents would post pictures from around the city, whereas tourists would usually cluster around the center.
They combined this data with official tourism data from the city administration.  This analysis allowed them to identify a tourist as someone whose posts were made during windows of less than 15 days, with at least a months gap between each period.  They also strove to remove the top 15 tourist locations to give a more authentic perspective on the city.
"The main idea behind our work is to give tourists insider information from residents. Therefore, Nevsky Prospect, Kazan Cathedral, the Hermitage, Pulkovo airport and other well-known areas were excluded from the analysis. Metro stations, geotags for locations that represent the city as a whole, and nearby cities were also not included," the team say.
Autonomous tourist guides
The algorithm is capable of organizing locations into five distinct categories:
theaters and museums
restaurants and bars
bridges and streets
parks
other
For instance, the most popular place for locals in the theaters and museums category was the Ice Palace, which beat the more famous Mariinsky Theater.
The team believe that their work could have a significant impact on both the tourism industry but also on the urban planning practice. It could help in the production of maps showcasing everyday life in the city – almost a locals' guide to a place that is authentic and real.  It also helps to highlight the different ways tourists and residents view and use an urban space.