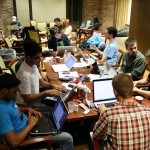 Earlier this summer, the science and health analytics company Elsevier hosted a medical education hackathon that attracted students from around the world to Helsinki, Finland in August.
Over an intense weekend, the teams developed a number of interesting solutions to improve medical innovation, with the eventual winners a global team comprising members from Australia, the Netherlands and Spain.
"The level of innovation demonstrated by the teams, not only in the leveraging of new technologies but also the inclusion of Elsevier content and technology tools such as ClinicalKey, within such a short time frame is astounding," Elsevier say.
Patient X
The winning team, known as Patient X, created a case-based solution to allow medical students to practice their clinical reasoning and then receive feedback on it via chatbot technology.
The second placed team had participants from Australia, Germany, Brazil and the UK.  They developed an interactive game, called Dr You, which aims to improve students medical knowledge via gamified real-life scenarios.
Suffice to say, as with most hackathons, a weekend of fervent activity can achieve much, but it must be the beginnings of something bigger rather than an end point in itself, so it's pleasing to hear that Elsevier will be working with the top three teams to help them develop their solutions further.
"At Elsevier we are keen to partner with medical students and empower them to think beyond the current challenges they face in medical education," they say. "Technology enables us to transform the way medical educators teach and the way students learn, and events such as Elsevier Hacks provide great opportunities to foster creativity and innovation and arrive at tangible solutions."
The event was supported by a number of industry stakeholders, including GE Healthcare.  Their Innovation Village aims to foster partnerships with the startup ecosystem, and the company hosted a pre-hackathon showcase event that allowed participants to learn from entrepreneurs already making their forays into the market.
Hacking medicine
If you're inspired to run a hackathon in your own field, you might find some useful help from MIT who have produced a guide off the back of their experience running Hacking Medicine events.
The events have spawned at least 15 different companies, with those ventures raising over $100 million in venture funding.  It's a track record that really marks the event out from its peers.
"The short- and medium-term gains in healthcare are not going to be from one-off Thomas Edisons doing their own thing to invent the light bulb," the authors say. "Everything is so multi-disciplinary now that you need to know where you run short of expertise and complement your skill sets through collaboration."
The MIT hackathons go through a four-phase approach:
Identification of the problem
Description of the challenge
Alteration via the innovation
Implementation of the change
The events have helped to produce a wide range of fascinating startups, including PillPack (prescription adherence), CAKE (end-of-life care), Augmented Infant Resuscitator (improved bag-valve-mask for neonates), Perfect Latch (breast pump design), Arsenal Health (patient scheduling), and Podimetrics (diabetic foot ulcers).
The authors believe that the hackathons are so successful due in large part to the social and academic values of the events, with large groups of like minded individuals gathered together and helped to innovate.
"Our goal isn't for our event to launch companies, it's to teach people to incorporate design thinking and user feedback–or how to conduct an interview so that you know what you're designing is hitting the right levers," they say. "We see ourselves as an education program that all the MIT Hacking Medicine community members have put a lot of love into."
So successful have they been that they have been recruited by various health technology groups to help them design incubators and accelerators of their own.  As part of this, the team have developed a free handbook (pdf) for groups wishing to run an event of their own.  The handbook contains a useful guide, with best practice tips from the many events run by the group.