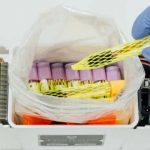 Whilst drones have improved immeasurably in recent years, a consistent problem has been the range, or rather their lack of range.  It's proved a limiting factor in the scope of use cases possible for the technology.
This was highlighted by a pilot project run a couple of years ago by Johns Hopkins to test the use of drones for transporting blood samples.  Whilst successful, the drones were limited to journeys of just 40 minutes in duration.
A recent study from the same team suggests light is at the end of the tunnel however.  The researchers established a new delivery distance record, transplanting blood samples over 161 miles of desert terrain.
The drone was capable of keeping the crucial payload at the ideal temperature throughout the three hour journey, thus ensuring they were fit for laboratory analysis upon landing.
"We expect that in many cases, drone transport will be the quickest, safest and most efficient option to deliver some biological samples to a laboratory from rural or urban settings," the team say.
"Drones can operate where there are no roads, and overcome conditions that disable wheeled vehicles, traffic and other logistical inefficiencies that are the enemy of improved, timely patient diagnoses and care," they continue. "Drones are likely to be the 21st century's best medical sample delivery system."
Safe delivery
The experiment utilized a commercially available drone (a Latitude Engineering HQ-40) for the journey, which involved a round trip within a drone test range.  The blood sample was contained inside a temperature controlled chamber designed by the researchers for the task.  A certified remote pilot was on hand to take control of the drone should it be needed, with a radio link upheld between the flight computer of the craft and the ground control station.  Each sample was handled according to International Air Transportation Association guidelines.
When the samples reached the intended medical facility (the Mayo Clinic in Scottsdale, Arizona), they were tested for 17 of the 19 most common chemistry and hematology tests.  The analysis returned similar results to control samples transported to the Clinic using traditional methods.
The team hope to further test drone based delivery in larger studies both across the United States and further afield.  It's a project that's well worth keeping an eye on.