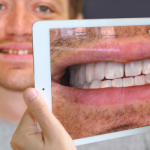 Augmented reality has had a number of interesting applications in healthcare in the past year, from a whole bunch of training applications all the way to infection control.
One of the more interesting applications comes from a Swiss team who are using the technology to show patients how their dental surgery might look once its complete.  Of course, such forecasting is already offered to patients, but it usually requires a plaster cast being made of the patient's teeth, with the dentist then inserting missing teeth with wax and creating a 3D model that the patient can try.  All in all it's a pretty time consuming process.
Kapanu are a Swiss startup spun out of ETH, and they've developed augmented reality software to show the results of dental reconstruction within seconds.  The system takes a video recording of the patient's teeth, with a virtual model of the new teeth then superimposed on top.  Indeed, so powerful is the system that patient's can try out more than one alternative, adjusting the length or shape of the teeth with a few mouse clicks.
Augmented dentistry
We've seen similar 'virtual mirror' type technologies used in areas such as fashion before, but this application in dentistry is particularly interesting.  The idea was born from a KTI project being run by the ETH Computer Graphics Lab, where after successful early testing, the Kapanu company was formed and spun-out.
The system was showcased at the International Dental Show in Cologne and received a very positive response.  Whilst the technology is technically ready for market, it is not yet available to end users.
"We have targeted the business-to-business segment, focusing mainly on developing the technology rather than marketing," the team say.
It's an approach that seems to be working, with the company rapidly gaining a strong position in the market, helped in large part by the lack of real competition.
"Within the space of just 18 months, we have managed to become the leading provider of Augmented Reality in the dental industry," they say.
It's a fascinating technology, and one that will be worth following with interest.  Check out the video below to see it in action.