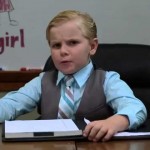 A few decades ago Brazilian company Semco garnered headlines around the world with a range of innovative policies designed by their boss, Ricardo Semler.  One of these was the notion of rotating leaders, with managers encouraged to spend time in a number of different departments in order to gain a fresh perspective on the business.
Suffice to say, such practices are not the norm, and usually it involves the boss going down into the ranks rather than the other way round.  Perhaps taking the concept further than most are workforce solutions company Adecco, who recently announced the global winner of their 'CEO for One Month' competition.
CEO for one month
The competition had its origins in Norway back in 2011, when a competition was launched to allow a new recruit to shadow the CEO of Adecco Norway for a month.  So popular did this prove to be that it was rolled out internationally within Adecco two years later, with some 117,500 applicants from 48 countries vying for the latest round of posts.
The competition begins at a local level, with applicants applying to shadow the CEO in one of Adecco's 48 national offices.  Winners of each local competition then go forward to shadow the global CEO for a month.
The winner of the global competition was Cambridge graduate Ed Broadhead, who will work with global CEO Alain Dehaze for one month.  This will involve attending international business reviews with top management, contributing to strategy meetings, offering fresh ideas about innovation, global staffing and labour market trends, and attending investor meetings.
"Ed has all the credentials to become a successful leader and I look forward to working closely with him. The goal of 'CEO for One Month' is to bridge the gap between education and work by giving people unique on-the-job experience and skills training. Our aim is to inspire them to keep dreaming and to keep working towards their dreams, while we also benefit from their dynamism and fresh ideas. We hope this programme encourages other employers to find new ways to offer opportunities to people fresh to the workforce, boosting their talent pipelines and, eventually, shaping a better future together," Dehaze says.
Supporting the next generation
The project is part of the wider Way to Work program that aims to provide young people with work experience opportunities and general support in making that first step into the workforce.
It's a nice idea, but there are a few areas where I felt it was lacking.  For instance, whereas an increasing number of companies are looking to build 'alumni' networks of former employees.  Indeed, a recent study from Penn State highlighted the commercial benefits of such a network.
The study found that when we have positive relationships with both our former boss and former employer, these tended to carry through into our next workplace.  These people can then become crucial ambassadors for your company, whether that's in becoming future customers or even in a more broad knowledge centered context.
"They can also come back to work for you as boomerang employees," the authors note. "They are a very powerful force and we cannot ignore that."
It wasn't clear that this was really happening at Adecco.  The team told me that around 20 participants had joined the company in the 4 years in which it had been running globally, but that only France had made any real attempts to build an alumni network of all participants, and this was only a database rather than anything more social and interactive.
The team accept that they are still in the early days of the program and so there are many things that they can improve upon, but it's an interesting way to develop the talent pipeline and potentially get new ideas into the company.