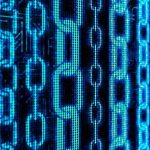 Blockchain technology is something I've written about an increasing amount in recent months, especially in terms of its potential in industries such as healthcare.  A recent report from The Alan Turing Institute and Lloyd's Register Foundation highlights its potential in engineering areas such as energy, transport, manufacturing and infrastructure.
The report highlights a number of interesting use cases where blockchain technology could help.  For instance, in manufacturing it could help to provide transparency and traceability throughout the supply chain.  It could support maintenance cycles in transportation.
It also highlights a large degree of confusion in the sector however, not least around what is and what is not a distributed ledger.  It's also evident that there is no one size fits all solution.  For instance, distributed ledger technology needs to operate in domains that are not 100% digital, and therefore with many physical as well as digital components.
Overall, it suggests a lot more needs to be done in terms of education, but also in the standardization of blockchain to better define and professionalize the technology.
"We spoke to a wide range of industrial professionals and researchers to inform our report. It's clear from this research that distributed ledger technology could provide real benefits within certain areas of engineering. However, in order to cut through the hype, a greater understanding of the range of potential system configurations and their capabilities is needed, together with practical implementation of real case studies that demonstrate impact to potential investors," the authors say.  "I hope this report is the first step in beginning this process, and I look forward to working with Lloyd's Register Foundation, The Alan Turing Institute and the wider engineering and data science community on taking the recommendations forward."