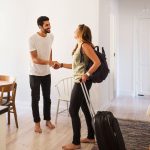 The housing market in many large cities is pretty dysfunctional, with large swathes of the population priced out of ever owning their own home.  There are obviously a huge number of reasons for this, but one that has gained increasing support is that sharing economy platforms such as Airbnb have distorted the market.
The theory goes that people are buying up properties to rent out on platforms such as this, which takes them out of the wider market for people actually wanting to live in them.
As reasoning goes, it's not one that I think has a huge amount of merit to it, but it nonetheless came to mind when learning about a Seattle-based startup called Loftium.  They aim to help prospective home buyers to get onto the market by offering up to $50,000 for the deposit.
It's an offer that comes with a string attached however.  You see, in return for this financial leg up, the company mandates that the home owners must keep at least one bedroom in the property continuously available on Airbnb for between one and three years, with roughly 2/3 of the income raised from the rental shared with Loftium.
They aim to sweeten the deal by supplying things such as automated messaging, smart pricing, an automated keypad for the front door, linen and toiletries for the spare room, as well as cleaning resources.
An algorithm is used to determine the size of the deposit Loftium are willing to provide, with Loftium covering any 'losses' should the income from the room not cover the deposit given to the home buyer.  The home owner is given eight 'freebie' days where they can use the room for whatever they wish.
There are also strings attached to the mortgage provider you can use, with all deals having to go through a company called Umpqua Bank.
The scheme is currently available in Seattle only, but they're keen to expand it across the United States, at which point they hope to also expand the range of lenders they work with.
I'm not entirely convinced it's a particularly good deal, but it's certainly an interesting model.