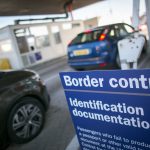 I've written a number of times about some interesting projects that aim to improve airport security, both in terms of the ease of passage and the security offered.  For instance, one Norwegian project detects when we enter the airport, and then tracks us through the airport until we're at the arrivals hall at our destination.
Suffice to say, airports are but one part of the border security process, and as the number of people moving between countries grows, its importance grows with it.  As such the EU's FastPass project aims to examine all aspects of border security, with an especially interesting element highlighted recently by VTT Technical Research Centre of Finland.
They have developed a number of best practices for the automation of border control to allow for passenger self-service.  To achieve this, EU nations need to ensure that border practices are harmonized so that equipment and procedures are common across the continent.
Automating border security
The team believe that the model they've generated will be crucial for other automated border control projects around the world, both in terms of the technical and operational requirements.  They are also confident that the model takes adequate account of the ethical and privacy concerns of citizens.
"During the project, we evaluated the risks and vulnerabilities in relation to automated border control systems to identify individuals. We have developed border control processes that have been successfully tested and evaluated in various operating environments at airports, on cruise ships, and for passenger cars at land borders. We developed alert systems based on intelligent data-processing," the team say.
The €15.5 million project aims to substantially develop the technology past its current nascent stage.  For instance, passengers are still getting to grips with the technology, so much of staff involvement at the moment is helping people navigate the system rather than on passengers who may require closer inspection.
The model was put through its paces in a range of environments, including an Austrian airport, a Greek port and a land border in Romania.
It's an interesting project, with participants from across the EU in both the private and public sectors.  You can learn more about it via the video below.