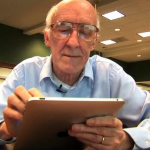 Supporting the elderly in managing their health and wellbeing will be one of the key challenges of our time. The size of the challenge has prompted a wide range of technological solutions to enter the market, the latest of which has recently emerged from Accenture, who have developed an AI-driven solution to help the elderly manage their care more effectively.
The platform aims to learn the behaviors of each individual before then suggesting suitable support activities to enhance their physical and mental wellbeing. It comes with a family and carer section that allows loved ones to keep tabs on their parent or grandparent, thus allowing them to check if they're active or have taken their medication. The platform also aims to identify irregular behaviors and can trigger alerts (with the patients permission).
The platform also features an events portal that can help provide the user with a wide range of social activities to help ensure they are active and engaged, both physically and mentally. It's part of a range of features that aims to provide the kind of support needed to remain healthy and independent for as long as possible.
Put to the test
The platform was tested over a three-month period with around 60 people aged over 70 years of age, all of whom were living independently. It was designed to be usable on the Amazon Echo platform and was therefore capable of voice activation by users.
"The Accenture platform demonstrates Accenture's 'People First' approach that puts technology to work for people to help create more human experiences and achieve better outcomes," Accenture say. "With the help of Age UK London, we identified the more common challenges of everyday life for older people – from setting daily reminders to the heartache of loneliness – and applied AI to create a human-centered platform to provide support and assistance."
The platform aims to solve a number of challenges for the elderly population, including the misallocation of resources and loneliness, both of which are substantial challenges for individuals and society as a whole. Suffice to say, the platform is at a very early stage and it remains to be seen how effective it proves to be in supporting elderly people, but Accenture plan to roll out the platform across the UK in the coming year.
You can learn more about the project via the video below.