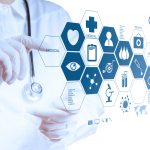 The power and value of medical data is something that I've written about an increasing amount over the past 18 months, and it's no surprise that a growing number of institutions have begun to take an interest.
Dame Fiona Caldicott was appointed as the first National Data Guardian (NDG) three years ago, and she recently released a report that looks back over this period, before then looking forward at the priorities of the office in the future.
"Since my appointment as the National Data Guardian (NDG) for Health and Care in November 2014, I have made the focus of my role the need for more to be done to help people be aware and more actively engaged in important decisions about how patient data is used and protected," Caldicott says.
Guiding principles
When entering office, Caldicott wanted the NDG to be guided by three core principles:
To encourage sharing of information in the interests of providing direct care to an individual.
There should be no surprises to citizens and they should have choice about the use of their data.
There must be dialogue with the public, helping to increase their knowledge and choices about how data is used to improve health and care.
So how have they done against these three core principles?  On data sharing, it's been a case of a series of false starts.  There has been an understanding for several years that more needs to be done to encourage and facilitate the sharing of medical data, and indeed patients are often the driving force in this. We expect (demand) that the data available to our local doctor is also available to our hospital (and vice versa). Sadly these expectations are very rarely met, and especially when considering the plethora of community care services, be it a physiotherapist or elderly care home, is considered.
The NDG next plan to launch a range of initiatives to encourage patients to get more involved in projects and discussions around the use of their data.  This work is being carried out in partnership with Connected Health Cities and Citizens Juries CIC.
Informed patients
This is also central to the 2nd core principle around informing patients of not only how their data is being used, but their rights surrounding it.
"As the NDG has made clear, the principle of offering an opt-out is core to building public trust. People need to see they can exercise control and that data is not being used in a way which will surprise them. It is crucial that the opt-out is supported by clear communication with both health and social care professionals and the public, so that people can understand what their data is used for and by whom, and what choices they can make," the report says.
Achieving this requires progress to be made on the third principle, of having a more robust dialogue with patients, whether around their data rights or privacy and cyber security issues.  A major effort to do this was the creation of a new platform, which I covered earlier this year, to help inform patients on their medical data rights and responsibilities.
It's a concern however that the NDG is very much a policy instrument and therefore uses the kind of tools common to most policy initiatives.  For instance, when listing the organizations they work with, it's noticeable that no private sector companies are mentioned, despite the considerable interest in health data, whether from AI companies, equipment manufacturers or pharmaceutical companies.
It's also a concern that much of the work revolves around talking rather than doing.  It's evident that the pace of change in the NHS is painfully slow, but the world around it is not travelling at such a pace, and there's a concern that for every step forward the NHS take, the world takes three.
"New technologies and ways of sharing data mean that we can now gain huge benefit from the sharing of health and care data, both in terms of individuals' own care and the broader social good of advancing research and treatment," the report concedes.
My question is, are we changing fast enough to take full advantage of the opportunities presented by new technologies or is healthcare in the UK destined to remain in the slow lane?