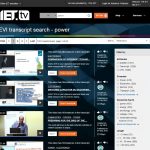 A couple of years ago the Institution of Engineering and Technology (IET) launched an online video platform, called IET.tv, which was designed to be one of the world's largest collated resources of multidisciplinary engineering and technology content.  The repository has thousands of videos, with approximately 1,000 new videos added each year.
With such a rich library of content, finding the right video can be increasingly challenging, so IET have unveiled a new video transcript search facility that they hope will allow users to find exact timestamped content with the click of a button.
The organization hope that the new functionality will make searching for content much easier for time pressed professionals who need to locate content as quickly as possible.
"Finding what you are looking for in a single 30 minute video can be hard enough, but with over 2,500 videos in our recent collection it can be quite difficult for our users to get to the relevant information they need. Most websites utilise keyword search to direct a user to the videos that may match but the user then has to watch the whole video to find the part they really wanted," they say.
"The IET has taken this to the next level using EVI. The database searches for the word or phrase in every transcript and returns search results based on the number of instances the word or phrase is used. The user can open the video and see the transcript with their search terms highlighted. Clicking these highlighted words will enable the user to jump to the exact point in the video, making it easier to find the information they are looking for," they continue.
Looking through the archive, there is clearly a huge amount of valuable content on the site, but many of the videos have a paltry amount of views.  Hopefully this effort to make the database more searchable will be married with efforts to get the word out about the resource.