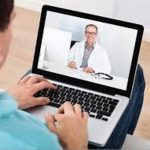 I wrote recently about a study highlighting the impact telemedicine can have on people with Parkinson's.  It's estimated that around 40% of those with Parkinson's fail to see a neurologist soon enough after their diagnosis, which puts them at a greater risk of falls, which in turns often results in hip fractures and further complications. This is especially problematic in remote or rural areas that are underserved by healthcare providers.  The study found that telemedicine helped considerably.
"Virtual house calls for chronic diseases like Parkinson's are not only as effective as in-person care but broader adoption of this technology has the potential to expand access to patient-centered care," the authors say.
A recent study set out to test whether similar benefits can occur for people with asthma.  It found that children with asthma who participated in a program that combined telemedicine support with school-based medication were half as likely to visit the emergency room or hospital due to their asthma.
Keeping children well
Asthma is known to effect around 10% of children, and successful management requires regular medication.  When the medication isn't taken, for whatever reason, the asthma flares up, often resulting in visits to the emergency room.
The research builds upon previous work highlighting the impact school nurses can have in ensuring that the medication is taken correctly, and applies a telemedicine element to ensure that this happens around the clock, even when the child isn't at school.
"Clinicians and researchers across the country are designing similar programs, using resources available in their communities to reach underserved children with asthma and help them get needed assessments," the authors say.  "But regardless of how you're reaching them initially, those children may continue to have issues if they aren't taking their medications regularly. The integration of telemedicine with supervised treatment through school provides one model to ensure that children receive consistent, effective asthma treatment."
Around 400 pupils, aged between 3 and 10, were enrolled, with around half getting their medication from their school nurse.  This cohort had an asthma assessment at the start of the study, and then two more follow-up visits with primary care clinicians conducted via telemedicine over the course of the year.
The other half of the group received recommendations on preventative care, and were advised to arrange follow up visits with their primary care clinician.  In other words, they weren't supported by a school nurse, nor had scheduled an appointment with the clinician via telemedicine.
Perhaps unsurprisingly, the students in the first group had many more symptom free days than their peers, whilst only 7% of them required a visit to the emergency room, which was less than half that in the control group.