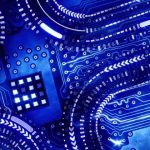 When graphene burst onto the scene a few years ago it was expected to revolutionize a whole range of areas.  Suffice to say, that hasn't yet materialized, but a team from the University of Manchester believe the graphene sensors that they've developed and embedded into RFIDs could have a huge impact on the Internet of Things (IoT).
Their work, which was documented in a recently published paper, layers graphene-oxide over graphene to create a flexible structure that can be moulded into humidity sensors capable of connecting to a wireless network.
Super material
The two-dimensional material, which is stronger than steel whilst also being lightweight and flexible, can be layered in the same way pieces of Lego can be stacked on top of each other.  By doing this in a precise way, heterostructures can be produced that are extremely high performing and specifically tailored for a particular purpose.
The team believe their approach can result in sensors being printed layer-by-layer, thus making mass production possible at an incredibly low cost.  What's more, they can also function without a battery source, as power is harvested from the receiver itself.
These kind of sensors, equipped with a RFID enabler, are the workhorses of the IoT, and this development could allow a range of applications, including battery-free smart wireless monitoring of manufacturing processes, especially those that are used in healthcare and nuclear waste.
The technique could simplify how information is collected through the wireless system, and it's also not restricted to particular wireless networks.
"The excitement does not end with this new application here, but leads to the future possibilities of integrations of this technique with other 2-D materials to open up a new horizon of wireless sensing applications," the team say.
It's a fascinating project and one that will hopefully begin to see graphene fulfil it's undoubted promise.  Check out the video below for more information on the project.