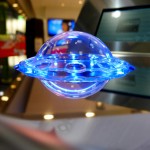 Each year GE produce a global innovation barometer that aims to understand how leaders are approaching innovation.  The 6th edition of the report has recently been published and reveals a significant level of optimism among the leadership community that innovation can drive their organizations forward.
The report revealed a sharp drop in the innovation performance levels of both the United States and Germany over the past four years.  The authors suggest this is largely due to leaders re-focusing attention on Asia.
"This year's Global Innovation Barometer reveals that despite facing significant and complex challenges, business leaders around the world are feeling more confident when it comes to driving growth through innovation," said Sue Siegel, GE's Chief Innovation Officer and CEO of Business Innovations. "In particular, executives are better equipped to make innovation a foundational part of their business discipline."
In an interesting shift, most leaders now regard large multinationals as the key drivers of innovation rather than startups and smaller companies, both of which have seen declining influence.
That innovation work does appear to be making a difference however, with around 40% of leaders saying that the work they put into innovation is having a direct impact on their bottom line.  These results are being threatened by insufficient funding and difficulties in scaling up innovations however.  There is also concern around the appetite for risk within large companies.
New technologies
Executives appear to be most excited about some of the less-hyped technologies, with excitement levels for things like virtual healthcare, smart energy grids and smart cities equal to that for technology such as artificial intelligence and intelligent automation.  The executives are confident that these technologies will bring transformative change to the world, despite being relatively under-hyped.
There's also considerable excitement for 3D printing, with 63% of executives believing this will have a significant impact on their business.  This is likely to manifest itself in increased creativity, whilst also allowing companies to get products to market faster.  There is still work to be done however, especially in training employees to work with the technology.
It's pleasing to see that these new technologies are already having a positive impact on the profitability of companies.  The report also highlights the nuanced approach to innovation being taken by companies.  For instance, 65% said that they are happy to test new technologies, with even more taking a very long-term view of innovation and not expecting immediate returns on investment.
The potential of innovation is threatened by concerns over a skills gap in the workforce however.  The rapid pace of technological change has made it extremely difficult for companies to access the skills they need to test and develop new technologies.  74% of executives are reporting difficulties accessing the talent required, with 64% saying this is hampering their innovation efforts.
"The workforce is considered the most crucial element to innovation success in most markets, yet skills gaps continue to be a top concern among businesses," the authors say.
It's a topic I've touched on numerous times in the past, with a recent report from Accenture highlighting the need to train staff to work effectively with new technologies, such as AI and robotics.  It's accentuated by falling training budgets across the corporate world.
By providing an annual overview of innovation in the workplace however, the GE barometer gives us an important glimpse into how priorities are changing.  Perhaps next year will see training and skills development given the priority it so urgently deserves.