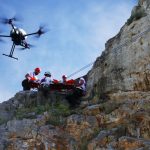 A few years ago I wrote about a project by the University of Zurich to use drones as part of mountain rescue missions.  The drones came with a deep neural network that allowed the device to learn the numerous trails and paths in a mountain range. Each drone was fitted with a range of cameras that were capable of detecting man-made paths.
This accuracy, coupled with the speed of the drones, made them an incredibly effective tracker for locating stricken hikers, and therefore a potent aid in search and rescue missions, whether they be in mountain ranges or other similar situations.
Whilst such technology is not in mainstream use, a sign of progress comes via a recent project run by the University of Bologna.  The project, called AirBorne, aims to develop autonomous drones to help mountain rescue efforts.
Drones to the rescue
The project is building on previous work undertaken in the Sherpa project, with the eventual aim being to develop devices fit for industrial scale manufacturing.  The project also hopes to develop a network of rescue services based upon this new technology.
The team consists of RECCO, a Swedish company whose proprietary technology uses radar to find avalanche victims; X-LOG, the German R&D company whose ARTVA technology was implemented on the Sherpa prototypes and, lastly, ASLATECH, the Italian company that manufactured the Sherpa quadcopter.
They're complemented by mountain rescue experts CAI – Club Alpino Italiano, who will ensure the project keeps on track.  Meanwhile, British non-profit organization PLUSVALUE will work to develop the creation of the network of mountain rescue services.
The Sherpa project, which was completed in March 2017, was a four-year effort to create a system of autonomous drones able to assist mountain rescue teams.  Early prototypes from the project have already found their way into centers of excellence to help train rescuers, but the eventual aim is to get the devices into practice, and this is where AirBorne comes in.