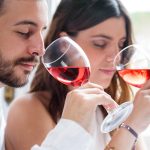 Last year I covered a couple of 'digital nose' projects that used a variety of methods to sniff out smells.  These technologies are being used for everything from sniffing out disease to detecting landmines, but arguably the biggest field will be in FMCG, where it can be used to test perfumes or wine.
This kind of technology is part of a new laboratory being developed at Brock University in Ontario, that combines augmented, virtual and sensory reality to improve understanding of wine fermentation.
The lab, which is believed to be the first of its kind, is a $2.4 million project that will create a wide range of environments in which people both purchase and consume wine, including wineries, liquor stores and restaurants.
Virtual environments
Each environment is recreated virtually, complete with the music, smells and other sensory information found in them.  The researchers will then explore how these factors impact our choice and enjoyment of wines.
"The concept of coupling consumer behaviour with technical tools of augmented and virtual reality is not only going to put Canadian researchers on the forefront of this research, but it's also an international first," the team explain.
The aim is to give the Canadian wine industry a competitive edge internationally, and as such it has received support and funding from the Ontario government.
"Supporting Ontario's researchers as they make breakthrough discoveries will help advance technology and drive economic growth across the province," the government say. "Making sure they are working in state-of-the-art facilities with the most up-to-date technology will help researchers do their best work and lay the groundwork for new products and services, and economic opportunity for people in Ontario."
The project is an interesting example of how science and technology is increasingly being used to understand how, and why, we consume various products.