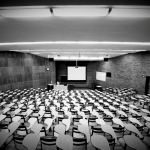 A growing number of companies have 'corporate universities' to provide learning and development to employees, but how effective are they at improving performance?  That was the question posed by a recent study published in the Journal of Intellectual Capital.
The research analyzed approximately 2,500 companies from across Europe, 28% of whom had corporate universities, most of which are located in the capital city of the host country.
The study finds an interesting correlation between the size of the company (in terms of market capitalization) and the likelihood of having a corporate university.  In other words, the larger the company, the less likely they are to have such a facility.
"Corporate universities create risks for companies. It appears that successful companies tend to consider less risky ways of investing in employee human capital", the authors explain.
Companies were also more likely to create a corporate university if they were located close to a traditional university.  These investments would typically result in a short-term boost to the human capital at the host company, but this boost appeared difficult to maintain.
Investing in a corporate university also seems to be the preserve of smaller companies, with those with such a facility typically worth €271 million less than their peers without one.
The researchers hope that their work will prove valuable to HR managers examining whether to open a corporate university of their own in the future as part of their human capital development strategy.  They conclude that the risks associated with setting up a corporate university can be mitigated by proper planning and assessment.
Investing in skills
Of course, with the research focusing purely on corporate university investment, they perhaps miss analysis of the wider picture.   The last year has seen a glut of cataclysmic predictions around the impact technology will have on employment. Of course, we've had technological disruption before, and each time mankind has been sufficiently able to adapt to ensure that employment levels remained very high. Doomsayers suggest however that this time is different. This time the change is so fast and so broad that we won't have the ability to adapt sufficiently.
Whether you agree with this prognosis, it seems inevitable that society will have to get a whole lot better at facilitating lifelong learning so that people have as good a chance as possible. In a previous post, I explored some of the new roles that might emerge, and in this post I will explore how people can learn and adapt accordingly. It's a topic that was the subject of the latest paper from the UK government's Foresight division. "Developing our skills is not just an aspiration, but with a changing job market is essential," its authors say. "This means not just raising the level of qualifications. It's getting the right mix of abilities, technical knowledge demanded by the workplace and skills to use those abilities and knowledge. It's about changing attitudes to learning across our lifetime and realising the positive benefits this brings."
Alas, despite both the growing need to learn and refresh our skills as we age, and the increasing number of ways we can efficiently and effectively do so, the report says that adult education in the UK is declining, and participation declines more as we age. What's more, those that do engage in education as adults tend to be wealthier and come from a high existing skill level.
Corporate investment in education will be crucial if this gap is to be overcome and the workforce retain the skills required to thrive at work.  Perhaps it's time to view the value of corporate investments in learning and development through that lens rather than stock market valuations?