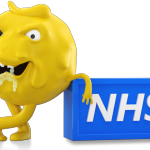 Last year I wrote about a new group that was established to try and tackle the so called 'fear of finding out' that prevents many people seeking medical attention.  It's a problem that is believed to affect 61% of people, who would delay making a medical appointment for fear of being told they have a serious illness.  Of course, the sooner an illness is diagnosed, the sooner it can be treated, so overcoming this fear is a major concern.
The group have recently developed a quiz to better understand why people have this fear of finding out (FOFO).  The app, called Crush Your FOFO, revealed a worrying misunderstanding among the public.  It emerged that just 20% of people thought they would be a burden on health services by not finding out.
Crushing the fear
The app consists of a series of short questions, with players presented with a personal health gremlin at the end based upon their answers.  The gremlin represents the severity of their FOFO, alongside their chances of crushing it.  Users are also provided with some tips on how to overcome their fears.
"We hope the public have fun with 'Crush Your FOFO' and listen to the serious message that lies behind it – that it's important to get worrying health symptoms checked out as early as possible. AbbVie recognises that we have a part to play in helping to alleviate pressure placed on the NHS through late diagnosis. 'Crush Your FOFO' is the first step towards us being able to help understand why some people have the Fear of Finding Out, and only then will we be able to find ways to empower adults to overcome it. 'Crush Your FOFO' is an open-data project, and once the findings from the quiz are in, there will be a job to do to understand people's behaviours and where we go from there," the team say.
The questions behind the app were developed by researchers from University College London's Centre for Behaviour Change.  The anonymized behavior data from the quiz will be made publicly available to help others both understand this fear and develop strategies to mitigate it.
To take the test and find out if you have the Fear of Finding Out, please visit www.crushyourfofo.co.uk on mobile or desktop.