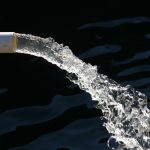 Water is an increasingly precious resource in large parts of the world, so it stands to reason that researchers have been turning to technology to help matters.  I wrote recently about an interesting project that is taking place in the sewers beneath the American city of Cincinnati.  The Metropolitan Sewer District of Greater Cincinnati (MSD) aim to develop a 'smart sewer' that reduces the overflow into the cities rivers and creeks.
"Our smart sewer system is anticipated to save tens of millions of dollars in capital investments in projects to control sewer overflows," the team say.  "This is our best chance of reducing spending and ultimately costs for our ratepayers."
MIT researchers are working on a similar approach, albeit their aim is to reduce leaks that result in roughly 20% of global water supplies being lost during transportation.
Their system consists of a rubbery robot that looks a little bit like a badminton shuttlecock.  The device is inserted into the water system, and then is carried along with the flow of water, measuring and logging as it goes.  It's capable of detecting small variations in pressure because its rubber skirt fills the diameter of the pipe.
As the device is retrieved from the system, the data is then uploaded.  It's a nice approach because it doesn't require expensive and disruptive digging work, and there is no interruption to the water service.
The team hope to make the next step and commercialize their product, with strong initial interest from Saudi Arabia, where 33% of their water supply is currently lost through leakage.  They sponsored a test of the product in Al Khobar, Saudi Arabia, with the robot performing well in initial trials.
The PipeFish
A second project along similar lines is being run by researchers from the University of Southern California.  Their robot is inserted into the water system through fire hydrants.  It then captures video in real-time and uses sensors to collect data and log its position.
The device, known as PipeFish, has been in development for a few years, but the team are confident in its potential.
"This could be a game-changer," they say. "Instead of excavating and replacing every pipe, which is a huge expense, PipeFish can narrow in on specific problems to enable repair before serious damage occurs."
As soon as the robot is collected, data can be uploaded and analyzed for signs of damage inside the pipe.  As with the previous machine, there is no need to shut off the water supply in order for it to work.
The device is currently being put through its paces in a series of 'dry tests' at the LADWP's Sylmar West Facility in the San Fernando Valley region before hopefully progressing to more advanced tests in the coming year.
They believe that their technology can be a significant improvement on the slow and expensive systems in use today.
"Right now, there is no effective way to visually inspect the inside of a pipe, so you can't tell which section is bad—it's guess work," they say.
By contrast, PipeFish will be able to inspect the pipes from the inside.  A microcomputer fitted onboard will control everything, with the 360-degree camera capable of capturing the interior of the pipe at a minimum of 30 frames per second.
The sensors on PipeFish will also capture things such as the flow rate, gas space and the presence of any flammable or illegally dumped materials.
"The plan is to eventually send PipeFish through every major water pipe in L.A. to identify risk and help officials prioritize which pipes need to be repaired or replaced first," the team say. "Every city in the world needs a PipeFish."