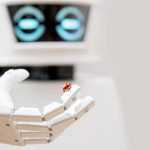 At the end of last year, a new report was launched by the UK government into how the country could support the development of AI technologies.  The report touched upon a number of areas, including closing the skills gap that exists in AI, the efficient transfer of AI research from lab to market and the various steps required to encourage the uptake of AI.
A slightly more nuanced examination of the topic has recently been published by the upper house, with the House of Lords Select Committee on Artificial Intelligence releasing AI in the UK: Ready, Willing and Able? this week.
"The UK contains leading AI companies, a dynamic academic research culture, and a vigorous start-up ecosystem as well as a host of legal, ethical, financial and linguistic strengths. We should make the most of this environment, but it is essential that ethics take centre stage in AI's development and use," chair of the Committee, Lord Clement-Jones says.
Ethical use of AI
Despite this potential, the Committee set about exploring the ethical issues involved in the development of AI, and how the UK can ensure the technology develops in the right way.
The Committee have developed five principles around which they urge the development of AI to revolve:
Artificial intelligence should be developed for the common good and benefit of humanity.
Artificial intelligence should operate on principles of intelligibility and fairness.
Artificial intelligence should not be used to diminish the data rights or privacy of individuals, families or communities.
All citizens should have the right to be educated to enable them to flourish mentally, emotionally and economically alongside artificial intelligence.
The autonomous power to hurt, destroy or deceive human beings should never be vested in artificial intelligence.
These core principles should form the crux of an AI code that features stakeholders from across industry that can be adopted nationally at first but then potentially internationally.
Overall the paper is reasonably on the money, but there is little to really distinguish it from the plethora of other papers on the topic that have been published in the last year or so.  Indeed, it's far from clear quite how much influence these papers, or indeed other works by Committees in the House of Lords, have had on shaping the debate.
That the report follows the pattern of most of the other reports in being an intellectual exercise with no concrete steps to enact any of its recommendations suggest it will join the growing pile of well meaning and largely sensible reports that result in nothing much changing.