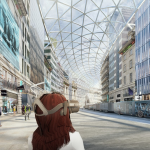 The latest NACD Public Company Governance Survey highlighted the concern many leaders have about the pace and breadth of technological change in their industries.  Being able to understand and identify the technologies disrupting markets can be a considerable challenge.
PwC have developed a virtual reality (VR) experience that they hope will help their clients understand this landscape more effectively.  The system has already been tested on a number of PwC clients from sectors such as banking, local government and transport.
The participant is placed in a VR city and tasked with spotting the 20 potential disruptions that have been hidden there.  They're then asked to rate each of the disruptions in terms of both their credibility and impact.  These disruptions range from synthetic biology to megadrones.
Spotting the trends
PwC believe the technology is the first of its kind to utilize VR to engage executives with disruptive technologies.  It's currently being deployed by the company's disruption consulting team as part of a series of workshops aimed to help future-proof corporate strategies.
"VR is a unique medium to tell the story of disruption, allowing our clients to experience the potential impact first-hand and bring their challenges to life in a much more immersive way. It enables far more meaningful conversations about the risks faced by each organisation as a result," PwC say.  "This tool demonstrates there is far more to VR than gaming – it's a technology with huge potential across a whole host of sectors, including professional services, with its power to engage people in a new way."
Organizations clearly struggle with disruption, but I'm not at all convinced that VR is a medium fit for helping with that conversion.  There isn't really an issue with a lack of information, and so I do wonder whether displaying that information in a more digestible way is really the challenge, or whether executives struggle instead with the adapting to change part.
Either way, it's an interesting project that might be worth keeping an eye on, especially if you're still hunting for use cases to suggest VR as a technology has legs.