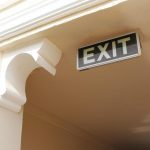 Earlier this year I played a game called Hint Hunt with my wife and some friends.  It's an escape room game whereby you have an hour to find and decipher a series of clues that will hopefully lead you to crack the code and earn your freedom.
A French real-estate agency have taken the idea as an inspiration to help people buy a new home.  The company, called Evidence Immobilier, created an escape room style game whereby potential buyers have to explore the property and hunt for clues and solve puzzles along the way.
The adventure starts with the buyers blindfolded and locked inside one of the rooms of the property you're viewing.  You're tasked with using your wits and observational skills to find various clues hidden throughout the property to eventually help you escape.
Gamifying viewings
The whole process is designed to encourage potential buyers to explore the property in more detail than they perhaps would through a regular viewing.  The clues are positioned such as to help them find all the nooks and crannies of the property, all whilst hopefully being entertained at the same time.
What's more, the process has a carrot dangled in front of buyers, as if they can escape from the property in 18 minutes or less, all of the notary paperwork required to complete the transaction are completed free of charge by Evidence Immobilier.
Suffice to say, participants aren't compelled to buy the property if they're not keen, but the agency hope that this novel approach to viewings will result in higher conversion rates.  The experiment is currently running for a limited time only, and obviously with a limited number of properties, but it will be interesting to see if it makes a real difference to conversion rates.
We've already seen real estate agencies utilize technologies like virtual reality to conduct viewings, but this is another example of how the sector is innovating.