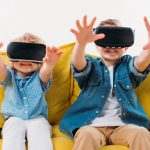 Virtual reality may seem like something of a gimmick, but new research reveals that 21% of families with children own a VR device.  The research urges parents and teachers to have a better grasp on the potential impacts of the technology.
The report was the result of a survey of 3,613 parents about their attitudes towards virtual reality.  It found that 60% of parents are concerned about the negative health effects of VR on their children, although this is countered by a similar number who are confident in the educational impact of the technology.
Sadly however, just 22% of parents revealed that their children currently use VR for learning, with the vast majority using it for gaming.
The power of VR
"One of the characteristics that really distinguishes VR from other media is that it's perceptually surrounding, so no matter where you turn there is content," the authors say. "VR responds to your body. If you want to get closer to an object you can actually walk; if you want to touch something you can reach out and get haptic feedback."
This heightened sense of reality can result in an outsized influence upon children using the technology.  Previous studies into VR have found that children can often mistake experiences that occur in VR with those that happen in real life.  What's more, characters in VR can be much more influential on children than similar characters on television or computer games.
The study also saw the creation of an interactive VR environment featuring the popular Sesame Street character Grover.  Children aged 4-6 were asked to play a series of popular games with Grover alongside playing games on a more traditional two-dimensional screen.  It emerged that the children playing the VR games were more likely to trust Grover and treat him as a friend.
"We found that kids can develop more trust in media characters in the virtual environment," the researchers say.
This influence can be used for good as such characters can encourage players to learn or become a source of trustworthy information.  It's an application of VR that most parents support, and indeed the researchers themselves believe that 'useful' applications such as training, learning and communication are likely to be as popular as gaming.
Use does not come without risks however.  Some 11% of parents reported their children experienced dizziness after using VR, with a further 10% reporting headaches.  The researchers suggest parents should closely supervise their children when they use VR, and only let them use it in 10 minute bursts.