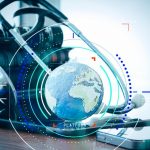 The tremendous potential of health data is something I've touched upon a tremendous amount, and it's pleasing to see that the EU are making strides to break down barriers to the 'free movement' of health data across the continent.
It's an ambition that first emerged in 2017 with a report by the Estonian government exploring some of the barriers to the free movement of health data across the European Union. Pleasingly, in most countries, it revealed that those barriers are rather lower than we might think.
The latest step in this direction comes via a recent declaration signed by 13 Member States to deliver cross-border access to their genomic information.  Each of the signatories commit to working together to secure access to national and regional banks of a range of health data sets.
Data commitments
The declaration aims to unite the fragmented data infrastructure across Europe, with the ultimate goal of having one million genomes accessible in the EU by 2022.  The document pledges to support work being undertaken nationally, whilst providing a sufficiently large cohort to provide a real boost to clinical research.
"Health relies on digital innovation and cross-border interoperability. Secure access to genomic and other health data among Member States is essential for better health and care delivery to European citizens and to ensure that the EU will remain at the forefront of health research. The European Commission will facilitate this process and will continue to work with all Member States and interested parties on this matter," the European Commission say.
The Commission will help each signatory state with the establishment of coordination mechanisms.  The aim is for these mechanisms to define the governance model for cooperation, especially on things such as the terms and conditions of access to data.
At the moment, the signatories to the declaration are: The Czech Republic, Cyprus, Estonia, Finland, Italy, Lithuania, Luxembourg, Malta, Portugal, Slovenia, Spain, Sweden, UK. Bulgaria, Croatia, Greece have also committed to sign the declaration. The other EU countries are welcome to join.