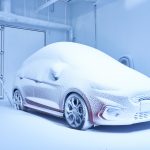 Earlier this year I wrote about a number of projects being undertaken by big auto companies to help them ride the waves of change.  The article documented the projects being undertaken by the likes of BMW and Ford to innovate collaboratively with startups and academia.  This form of open innovation is increasingly common in an industry that is undergoing huge amounts of disruption, with new entrants such as Waymo and Tesla nipping at the heels of illustrious incumbents.
That's not to say that the incumbents aren't doing a lot of innovation in-house however, and a good examples comes from the new Ford "Weather Factory" that has recently opened its doors in Köln, Germany.
The €70 million Environmental Test Centre is designed to allow the car giant to expose vehicles to every form of weather imaginable, from a category 5 hurricane in one room to desert like conditions in another.
"The vast range of punishing simulation tests will enable Ford drivers to be confident their vehicles can handle whatever climate zone they live in," Joe Bakaj, vice president, Product Development, Ford of Europe said on a recent visit to the facility. "Travelling to the four corners of this building is like taking a trip to the four corners of the world, and our engineers will do that around the clock, every day, to continue to develop future best-in-class vehicles."
Testing the elements
The facility consists of multiple rooms, each featuring a unique climate.  For instance, the altitude room allows vehicles to be tested in the thin air found at the Mount Everest North Base Camp, or the snow room can plunge temperatures to below -40°C.
The center allows ten vehicles to be tested simultaneously, gathering incredibly rich data that even extensive, and expensive, field testing would struggle to replicate.  This testing covers a range of factors, including comfort and safety as well as the performance of electrical and brake systems.
The company plan to test all vehicles at the facility, which contains three climate controlled wind tunnels and four temperature-controlled test chambers.
"We can see how windshield wipers function in Arctic temperatures, how engine performance changes in extreme heat and cold, and even how much snow falls on the driver's head when they open the door. It's an engineer's dream," said Michael Steup, project manager, Environmental Test Centre, Ford of Europe.
The facility forms part of the $7 billion that Ford are investing in research & development this year, and complements similar testing facilities at the Lommel Proving Ground, in Belgium, which allows them to perform pothole-testing, side-wind tests, saltwater tests and even mud bath testing.
Somewhat surprisingly, the company were unable to reveal the kind of ROI they expected from the facility, which given the significant investment was rather odd, but it's certainly an interesting facility and it will be intriguing to see what impact it makes on how vehicles are produced at the company.

Check out the video below to see the facility in action.