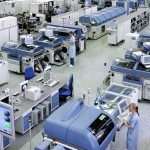 I've written a few times about the new skills that are likely to be required as people learn to work alongside new AI-based technologies.  To date, few organizations have invested sufficiently in the training required to help employees develop these skills, but a good example of where this might be happening recently emerged via a partnership between Boeing and The University of Texas at Arlington (UTA).
They'll be working to help Boeing better understand future learning environments where things such as robots and AI are active participants in the workplace alongside human workers.
"A lot of companies are facing a challenge to reskill their employees for an environment where they need to collaborate with technology, not just use it," UTA say.
Reskilling for the future
Last year Accenture highlighted the importance of this in a report that was published alongside the Davos World Economic Forum event.
The paper argues that a sufficient investment in more human, softer skills such as leadership, creativity, emotional intelligence and critical thinking would significantly reduce the number of jobs lost to automation. Indeed, the paper suggests that if investment in training for these skills could be doubled, then the number of jobs at risk from automation would fall from 10% to 4%.
"Paradoxically, the truly human skills, from leadership to creativity, will remain highly relevant and winning organizations will strike the right balance – leveraging the best of technology to elevate, not eliminate their people," the authors say. "Not only are workers optimistic, but they understand they must learn new skills. Digital can accelerate learning by embedding training seamlessly into daily work – so learning becomes a way of life – helping workers and organizations remain relevant."
The partnership between Boeing and UTA will attempt to do just that.  They will generate a number of reports on both how new technologies will impact the workplace and also how learning needs to adapt in response.  They will present detailed findings to the Boeing leadership team on the implications of new ways of learning.
"In a recent survey from Dell Technologies, more than 80 percent of business leaders expect that humans and machines will work as integrated teams within their organization inside of five years, so this is a very strategic issue, " UTA say. "The economic impact of these changes, and reskilling workers to more rapidly enter new career categories, will be in the billions of dollars."
Suffice to say, the partnership is thus far at a very early stage, and it's far too early to bring out the bunting and celebrate a company that has truly embraced the need to develop the skills of its workforce, but it will hopefully be a launchpad to do just that.