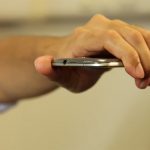 Last year I wrote about an interesting new app that aims to test for and diagnose Parkinson's disease.  The app, called CloudUPDRS, aims to help better track the various symptoms associated with Parkinson's. The app is designed to allow the user to perform self-assessment using the sensors built into the phone.
The app hopes to mimic the tasks undertaken by the clinician. The first version therefore took roughly the same length of time as a normal consultation.
It's a growing market, with an EU-funded project, called i-PROGNOSIS (Intelligent Parkinson eaRly detectiOn Guiding NOvel Supportive InterventionS), also attempting to provide earlier means of detection.  The four-year project is being coordinated by the Aristotle University of Thessaloniki, Greece, and aims to develop a number of technology-based solutions to detect and care for Parkinson's.
Behavioural data
The technology relies upon the collection of behavioural data that is gathered via the users' natural interaction with their smart device.  At the heart of the system is the iPrognosis moble app, which collects a range of data that can be used to determine the users health, including: voice characteristics while users are talking on the phone, hand steadiness while they're holding the device and keystrokes-related data when using the app's keyboard. Other information is also gathered about distance covered each day, facial expressions from stored photos and emotional content from stored text messages.
To date, the application has collected around 433,625 records, with this data being used to train the algorithms that underpin the technology and help the system to detect behavioural changes associated with Parkinson's.  Should the system detect signs of the disease, the user is instructed to visit the doctor.
The team are now working to medically evaluate these algorithms to test their effectiveness.    They're also hoping to capture additional data that the team believe will indicate early signs of Parkinson's.  This will involve additional devices, including plate scales, smart belts and smart TV remote controls to collect data on food consumption rates, bowel sounds and heart rates, respectively.
Ultimately, the team hope to design specific interventions to help Parkinson's patients maintain a good quality of life.  They are at a very early stage, but it's a fascinating project that will be interesting to following their progress.