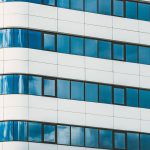 As cities grow there is a growing demand for properties to become smarter to allow residents to live in ever closer proximity.  Recently I wrote about a fascinating new technology developed by researchers at Singapore's Nanyang Technological University.
The technology is designed to be mounted onto window grills and the researchers claim it can reduce noise from outside by up to 50%.  It achieves this by using 'active noise control' technology, which is the kind of thing commonly found in headphones to cancel out external noise.
"Compared to noise cancellation headphones, what we have achieved is far more technically challenging as we needed to control the noise in a large open area, instead of just around the ear," the researchers say.
Managing light
A Swiss team of EPFL scientists from the Laboratory for Solar Energy and Building Physics have teamed up with Empa's Laboratory for Advanced Materials Processing team to develop windows that contain 'seasonal glass' that they believe can keep indoor spaces cool without blocking the view.
Their technology involves treating windows with a film that contains micro-mirrors that bounce sunlight away from the building.  The mirrors, which are made of Compound Parabolic Concentrator lenses, are designed specifically for use in low visibility environments, with the angle of the lens reflecting the optimum amount of light.  This is perfect for winter months where days are shorter with less sun.
The mirrors are capable of detecting the position of the sun in the sky and responding accordingly.  For instance, in summer, the lenses bounce more of the light away from the building, and thus help it to stay cool and significantly lowering energy costs for the building.  What's more, it does this whilst maintaining visibility levels.
"The glass can reduce the consumption of thermal energy from heating or air conditioning by 10 to 20 percent," the team explain.
The next challenge for the team is to develop an efficient and cost-effective manufacturing process so that the successful initial trial of the technology on the Empa campus can be scaled up.